John Wayne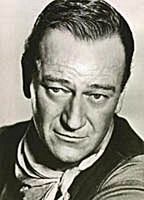 Legendarny aktor amerykański, będący największą ikoną kina spod znaku westernu. Symbol prawego i sprawiedliwego Amerykanina-patrioty, umiejętnie walczącego o swoje, zawsze słuszne ideały i wzór pozytywnego bohatera. Jego znakami rozpoznawczymi były: wysoki wzrost, charakterystyczny chód i sposób mówienia, co, wraz z nieodłącznymi rekwizytami kowbojskimi (apaszka, kapelusz, para koltów przy biodrach) ukształtowało jego wizerunek archetypowego szeryfa. Gwiazda "Rio Bravo", "Rio Grande", Rzeki Czerwonej" i "Dyliżansu", oraz około 150 innych produkcji, głównie westernowych i wojennych.
Urodził się 26 maja 1907 roku w Winterset w stanie Iowa, dorastał na rancho w południowej Kalifornii, gdzie jego rodzina przeprowadziła się z uwagi na lepszy klimat, sprzyjający zdrowiu ojca – farmaceuty. Był pilnym uczniem i uzdolnionym futbolistą, w latach 1925-27 załapał się nawet na stypendium sportowe w University od South California.
Był samorodnym talentem aktorskim, odkrytym przez przypadek. Na plan filmowy trafił już na początku lat 20-tych, jako "chłopak na posyłki" chcący jedynie dorobić do kieszonkowego. Z czasem trafił przed kamery, pierwsze, mało znaczące występy dając w 1926 roku. Po udanej serii dalszych epizodów, zadebiutował w pierwszoplanowej roli w westernie Raoula Walsha "Droga olbrzymów" (1930).
Przez całą dekadę lat 30. był stałym odtwórcą głównych ról w wielu (nierzadko kilku rocznie) westernach ("Jeźdźcy przeznaczenia" 1933, "Telegraficzny szlak" 1933, "Granica bezprawia" 1934, "Pustynny szlak" 1935, "Born to the West" 1937, by wymienić tylko niektóre).
Gwiazdą został jednak dopiero pod koniec lat 30-tych, dzięki przełomowej roli Ringo Kida w "Dyliżansie" Johna Forda (1939). Był czołową gwiazdą filmów Forda, u którego zagrał ponad 20 razy. Najważniejszymi owocami ich współpracy były m.in. słynna "kawaleryjska trylogia" ("Fort Apache" z Henrym Fondą 1948, "Nosiła żółtą wstążkę" 1949 i "Rio Grande" 1950), "Poszukiwacze" (1956), czy "Człowiek, który zabił Liberty Valance'a" z Jamesem Stewartem (1962).
Niemniej głośne występy Wayne'a związane są z osobą Howarda Hawksa – począwszy od roli w "Rzece Czerwonej" z Montgomerym Cliftem (1948), przez jeden z najsłynniejszych westernów w historii – "Rio Bravo" z Deanem Martinem (1959) i przygodowe "El Dorado" z Robertem Mitchumem (1966), aż po "Rio Lobo" (1970).
Jedynego Oskara, i Złoty Glob przyniosła mu pierwszoplanowa kreacja w "Prawdziwym męstwie" Henry'ego Hathawaya (1970). Wcześniej dwukrotnie nominowany był do Nagrody Akademii – za rolę w wojennych "Piaskach Iwo Jimy" (1950) i za wyreżyserowany i wyprodukowany przez siebie historyczno-przygodowy western "Alamo" (1960).
Osiem lat później ponownie stanął po drugiej stronie kamery, realizując wojenną produkcję "Zielone berety", która przysporzyła mu wielu wrogów z uwagi na ostentacyjnie wyrażone poparcie dla interwencji USA w Wietnamie (1968).
Wielokrotnie był gwiazdą westernów Andrew V. McLaglena ("McLintock!" 1963, "Niezwyciężeni" 1969, "Chisum" 1971, "Synowie szeryfa" 1973). Grał też u Michaela Curtiza "("W kraju Komanczów" 1962), Johna Hustona (pamiętna kreacja w dramacie "Barbarzyńca i gejsza" 1958), Ottona Premingera ("Wojna o ocean" z Kirkiem Douglasem 1965) i Cecila B. DeMille'a ("Zdradzieckie skały" z Paulette Goddard 1942).
Cztery lata pod rząd był laureatem nagrody People's Choice Awards dla Najpopularniejszego Aktora (1975-78). Czterokrotnie nagrodzono go też Western Heritage Awards – Złotymi Wranglerami, sześciokrotnie - Golden Laurel Awards (cztery razy z rzędu w latach 1961-64 oraz w latach 1970-71).
Ostatnie, świetne role stworzył w latach 1975-76 u boku Katharine Hepburn w "Rooster Cogburn" Stuarta Millara i obok Lauren Bacall w "Rewolwerowcu" Dona Siegela.
Zmarł na raka, 11 czerwca 1979 roku w Los Angeles.